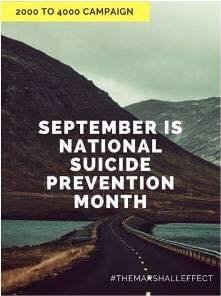 Through the generosity of Modern Woodmen Fraternal Financial, donations made to #themarshalleffect in the month of September will be matched up to $2000.
In collaboration with mental health providers, all donations to #themarshalleffect will go to financially support Evidence Based Treatment for those at risk of suicide.
You can have a profound impact on a life by making your donation.
10/1/2020 UPDATE:

WOW!! Many thanks to all who contributed to our 2000 to 4000 Campaign! With your generosity, we surpassed the $2000 mark and we are on our way to supporting life changing Evidence-Based Treatment for people who would otherwise be unable to afford it.
Thank you to Modern Woodmen Fraternal Financial for matching funds.
You are all helping to save lives!!!